Attending this year's PAA meeting in Austin, TX?  Drop by our exhibit booth or attend the pre-PAA Add Health workshop!
Exhibit Booth: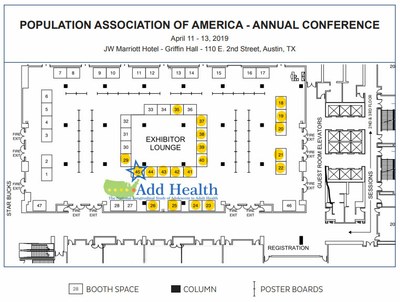 Come talk to Add Health staff at our exhibit booth, Booth 45 (see map).
The exhibit schedule is as follows:
Wednesday, April 10 6:00 PM – 9:00 PM (Welcome Mixer)
Thursday, April 11 8:00 AM – 6:30 PM
Friday, April 12 8:00 AM – 4:15 PM
Saturday, April 13 8:30 AM – 1:00 PM
Workshop – Add Health: Design, Data, Access, and Effective Use
Join Add Health investigators at the project's workshop, Add Health: Design, Data, Access, and Effective Use.
The workshop will be held on April 10 from 12:00-4:00PM.
Register to attend the workshop via this link (click "Register for this session").
The workshop schedule is as follows:
Session 1: Overview of Add Health and Add Health Parent Study
This session will provide an overview of the Add Health Study design and data and an overview of the new Add Health Parent Study (AHPS) design and data. This session is intended for attendees who have never used Add Health, are thinking about using data from Add Health and/or the AHPS, or are new to Add Health and want to learn more about its data and AHPS.
Kathleen Mullan Harris (Director and PI, National Longitudinal Study of Adolescent to Adult Health; Co-PI, Add Health Parent Study, University of North Carolina at Chapel Hill)
V. Joseph Hotz (Co-PI, Add Health Parent Study, Duke University)
Session 2: Add Health Genetic Data and Genome-Wide Association Study
Add Health recently released genome-wide data and polygenic scores for approximately 10,000 respondents. These new data products provide researchers with the ability to conduct sociogenomic analyses by combining the depth and breadth of phenotypic information contained in Add Health with genetically informed measures. This session will (1) introduce the genetic data and polygenic scores, (2) describe data access steps, and (3) highlight a few applications of the data in recent publications.
Robbee Wedow (Postdoctoral Research Fellow, Broad Institute of MIT and Harvard)
David Braudt (Ph.D. Student in Sociology, University of North Carolina at Chapel Hill)
Session 3: Add Health Wave V Biological Data
This session will cover four areas: (1) methods used to collect Wave V biological data and specimens, including anthropometrics, cardiovascular measures, medications, and blood; (2) their monitoring and quality control of data; (3) surveillance of deaths since cohort inception, including their identification, review, classification, and adjudication; (4) best practices for use of the Add Health biological data.
Eric Whitsel (Co-PI, Add Health Wave V Biology of Chronic Disease Emergence Project, University of North Carolina at Chapel Hill)
Session 4: Appropriate Analysis in Add Health – Correcting for Design Effects and Selecting Weights
Add Health is a national longitudinal study with special survey design features. This session will discuss how users can account for those features, including clustering, stratification, and unequal probability of selection. It will focus on how to choose correct sampling weights and avoid common errors. It will also give specific examples of how to apply weights to run descriptive statistics, population-average models, subpopulation analysis, and multilevel models.
Ping Chen (Senior Research Scientist, National Longitudinal Study of Adolescent to Adult Health, University of North Carolina at Chapel Hill)
More information about this event…
When:
Apr 09, 2019 12:00 PM 
to
Apr 13, 2019 03:00 PM
Where: JW Marriott • 110 East 2nd Street, Austin, Texas 78701 USA