Drs. Peter Bearman, Barbara Entwisle, Kathleen Mullan Harris, Ronald Rindfuss, and Richard Udry were awarded the 2016 Golden Goose Award for their work in developing the Add Health study. The Golden Goose award aims to "recognize the tremendous human and economic benefits of federally funded research by highlighting examples of seemingly obscure studies that have led to major breakthroughs and resulted in significant societal impact."
In the award announcement, Add Health is described as "a landmark example of how longitudinal research can yield extraordinary and unexpected insights." The study's importance is further described in the following excerpt:
The National Longitudinal Study of Adolescent to Adult Health—Add Health, for short—is a gold standard basic research study on human health, funded by the National Institutes of Health (NIH), which has had profound impacts on society and helped shape the national conversation around adolescent health. With its revolutionary open-access model – nearly all of the survey data is publicly available as soon as it has been collected and processed – it has made possible an enormous range of scientific studies that have strengthened our understanding of the importance of family connectedness to adolescent health, allowed us to track and scrutinize the rising tide of the obesity epidemic, and demonstrated the social, behavioral, and biological importance of adolescence to lifelong health and well-being.
Everyone at Add Health would like to thank the Golden Goose Award committee and extend heartfelt congratulations to the winners of the award!
This year's award winners received their Golden Goose statues at the September 22, 2016 ceremony held at the Library of Congress in Washington, DC. 2016 awardees also included the researchers leading The Honeybee Algorithm and Sex Life of the Screwworm Fly studies.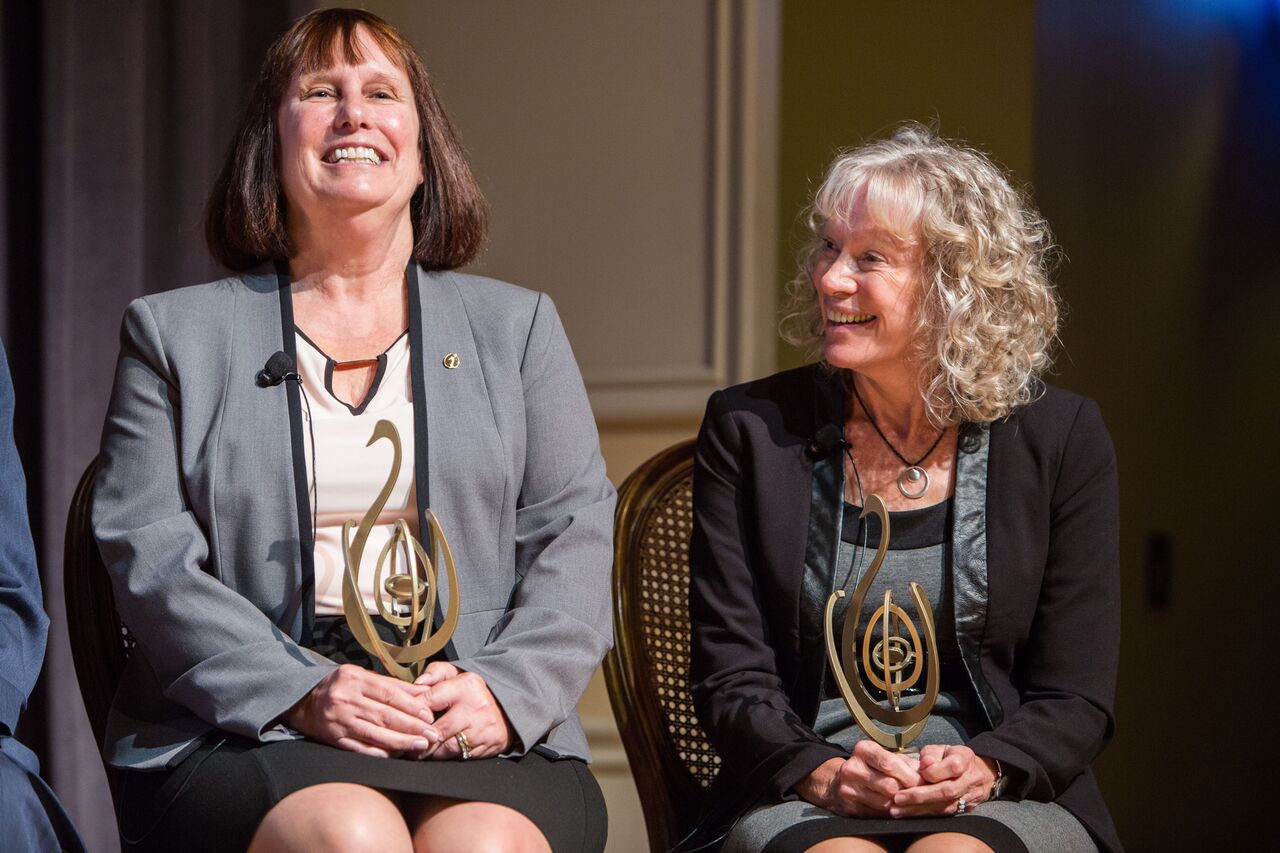 Drs Barbara Entwisle (L) and Kathleen Mullan Harris (R) with their Golden Goose statues at the Library of Congress.
Click here to watch the Golden Goose Award 2016 documentary video.